Discover the essential teachings & deep spirituality of Islam. And enhance your reading experience with exclusive bonuses when you order today.
Special Bonuses Disappear in…
What You'll Get When You Order Now…
Quran For Busy People:
How to Set & Achieve All Your Quran Goals in a Few Minutes a Day
(Value: £297)
This powerful, life-changing 7-module program is designed to show you how to organize your Quran studies & build a strong relationship with the Quran. In this powerful 7-module digital training, you'll discover…
The quickest, easiest way to learn Quranic Arabic so a few weeks from now you can understand 100% of what you read in the Quran, without needing an English translation
How to improve your Quran recitation fluency so you can read it easily and never have to be embarrassed or shy to recite in front of others
The 'tajweed trap' – how to avoid this common mistake that sabotages your attempts to connect with the Quran
How to memorize the Quran – even if you only have a few minutes a day (this 7-step program given by a great scholar is still the most popular Quran For Busy People article)
How to revise & retain all the Quran you've learnt (this is where most people trip up in their attempts to memorize the Quran)
The Ultimate Personal Quran Plan – There are over 13 different ways you can approach studying the Quran – this comprehensive plan lays out which are the most important, and what order to study in
Where to find a Quran teacher – and which aspects of Quran study require a teacher & which aspects just require self-discipline (Note: both are essential for all believers)
How to build the Daily Quran Habit – the #1 key that determines whether you'll achieve your Quran goals or not – broken down into 5 simple steps that virtually guarantee your success.
The best English Quran Translations – and the key understanding you need before you can start benefiting from your personal reading of the Quran in English
And much, much more…
Special Quran For Busy People Masterclass
During this special masterclass, you'll discover:
The "Ultimate Nafs Trap" that sabotages our attempts to study the Quran and come closer to Allah
The Quran is the greatest personal development manual ever – during this Masterclass, you'll discover the psychological key that lets you unlock its transformational power
Why one Auntie cried tears of joy thanks to her use of just ONE of the 7 the Quran strategies that we'll reveal during this Masterclass.
What it means to approach the Quran from the 'Outside-In', why that doesn't work if you want it to change your life, and what to do instead (Note: this approach is common sense, is taught by scholars, but most of us still don't do it)
Effortless Transformation – the key to finding an endless reserve of the self-discipline & willpower required to make significant progress in your Quran studies (without it feeling like such hard work)
How you can fall in love with the Quran again, so immersing yourself it becomes your favorite part of the day, and doesn't feel like a chore.
FREE ACCESS to the complete 7 module Quran For Busy People program, previously sold for £297, is given during this Masterclass. (Masterclass Attendance is compulsory to get the full program.)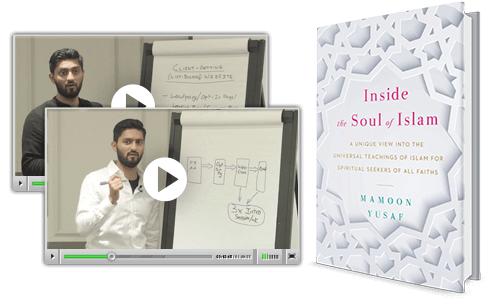 The Chapter-By-Chapter Video Guide (Value: £497)
This revealing video training gives you behind the scenes snippets of how the book was written and an in-depth commentary on each chapter.
You'll discover…
9 of the core values of the Quran, and how we can embody these universal spiritual teachings, to experience higher levels of connection with the divine, more of the time.
How to embody the true meaning of resilience – so you can be the calm in the storm and serve as a source of inspiration for those around you – even in the face of harsh, adverse circumstances.
How to be naturally more forgiving towards ourselves & others and let go of grudges that harden our hearts
How to get in touch with your natural state of inner peace & show more loving kindness towards other people & yourself
The Inside-Out Paradigm Shift – a new, principle-based way of approaching of personal development that lets you effortlessly drop insecure, self-sabotaging thought patterns.
Automatic Gratitude – how to be much more deeply grateful, more often without adding
Presence of heart – how to free your mind from worries & insecurities so you can concentrate more in prayer & discover the 3 hidden meanings in the well-known Prophetic saying, that shows us how to be present.
And much, much more…
Praise For Inside The Soul of Islam…
"If you've ever wondered how people can believe in a religion that is so often used to justify terrorism and hate, this shockingly wise, deeply personal, and surprisingly humorous book will take you "behind the words" and connect you to the very heart of Islam – your own unconquerable soul."
"One of the most important books to have been written and a monumental step towards giving the wisdom teachings of Islam their rightful place in the self-help genre. Mamoon successfully relays across the essence of the soul and universality of Islamic wisdom through a personalized, yet truthful account of his physical and spiritual journey."
"An excellent, authentic way of describing the beauty of Islam in the day to day life of a Muslim. Mamoon's personal story makes this an easy read for any one who wants a realistic introduction to the spiritual aspect of Islam. I hope and pray that every seeker of the truth, especially those who live in the western world, would read this book."
"Mamoon is one of the most inspiring, uplifting and transformational coaches I know. His teachings bring light & love to all our lives and his message has the power to bring peace to the world…"
A Little Bit More About The Book…
The voices that cast Islam as a violent, anti-West religion are becoming louder, but when asked what the values of Islam actually are, most people draw a blank. Despite frequent news coverage, we remain poorly informed about the actual beliefs at the heart of Islam.
In this profound and highly accessible book, practising Muslim and transformational coach Mamoon Yusaf provides a vital introduction to the essential teachings of Islam. In each short chapter he focuses on a core teaching from the Quran, such as loving kindness, gratitude and forgiveness and shares insight into how these universal truths can become a lived reality in our lives.
Mamoon considers the role of women in Islam, as well as the true nature and meaning of the words 'Jihad' and 'Shariah'. Finally, touching upon current events, he demonstrates how acts of violence committed in the name of Islam are inherently un-Islamic and boldly concludes that not only is Islam not the cause of terrorism: Islam contains the cure for it.
Inside the Soul of Islam gives readers a much-needed understanding of this widely misrepresented faith, and an insight into the great love, beauty & wisdom it offers us all.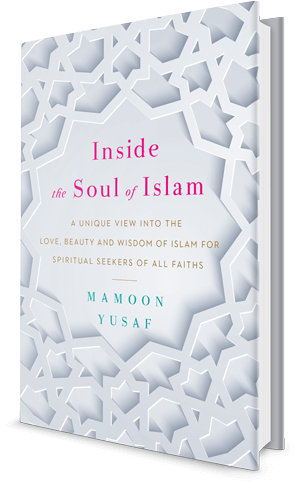 Inside The Soul of Islam by Mamoon Yusaf
Meet Mamoon
Mamoon Yusaf is a peace activist and transformational coach. He is the host of the British Muslim TV shows, Quran Coach and Taqwa Transformation, in which he changes people's lives through his powerful message of the Inside-Out Paradigm. His online training programmes, seminars and writings are a source of inspiration for thousands of Muslims and spiritual seekers of all faiths across the world.